Awards
Several Non-Profit Organizations in the States have recognized Mr. Cinar for his accomplishments.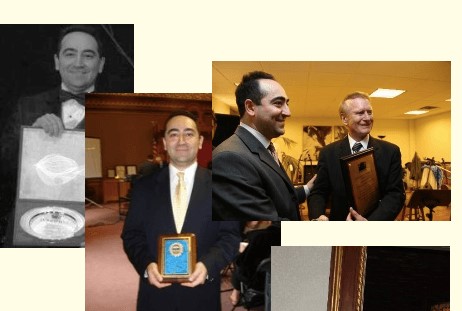 Mr. Cinar has been making contributions to the US-Turkish relations and has also built bridges between many other communities in the United States. He holds proven leadership qualities and believes in the importance of being politically active. He also takes part in charity works such as Save Our Nations (Helping African children who were left orphan by Ebola Virus), Fighting with Cancer ( His father had a lung cancer), Against Women Violence, Supporting Refugee Children and many more.
As a proven bridge-builder, he has developed strong relationships with the following communities and also maintains it: Muslim Communities, The Jewish Community, The Korean Community, The South Asian Community, The Ukrainian Community, The African American Community, Native American Community, The Balkans Community such as Macedonians, Albanians and Bulgarians, The Azerbaijan Community, The Turkmenistan Community, Uzbek Communities

Between the years 2007 and 2019, Ali received various awards from the following associations:
Assembly of Turkish American Associations Leader of the Year Award, Washington DC
Mideast &Turkic Society of New York Police Department, NY
Save Our Nations Dream Maker Award, NJ
Southern New England Turkish American Association, CT
American Society of Azerbaijan, NY
Korean War Veterans Association-Central Long Island Chapter, NY
Istanbul University Alumni Association of USA
The Turkish American Association of Northern Texas, TX
Philadelphia Turkish American Association , PA
One of the TOP 10 Most Successful Young People by Junior Chamber
International (JCI) TR (JCI, partner with United Nations, is a membership-based nonprofit organization of 200,000 young people aged 18 to 40 in 5,000 communities and more than 100 countries around the world)
New York Giresun Association
Turkish American Giresun Association
Mediterranean Turkmen Association
Turksav Foundation (Turkish Society Writers and Artists Foundation)
The Turkish Women's League of America - Ataturk School
The Turkish American Chamber of Commerce and Industry (TACCI)
Forum Newspaper
Turksoy Foundation (The International Organization of Turkic Culture)
The Azerbaijan American Women League
Turkish United Democrats Foundation
Eyup Sultan Cultural Center
Turkish Consulate of New York
The American Turkish Association of Washington DC
*Ali Cinar was selected to the "One of the Top 50 Most Influential Turkish-Americans" list by Turk of America Magazine.
Ali Cinar was awarded with the Ellis Island Medal of Honor in 2019 and was the youngest Turkish American to receive this distinction in over 30 years. He recently received a "Community Service Award' by the NYPD MT&S.