President Trump Signs Executive Order on new Stimulus Package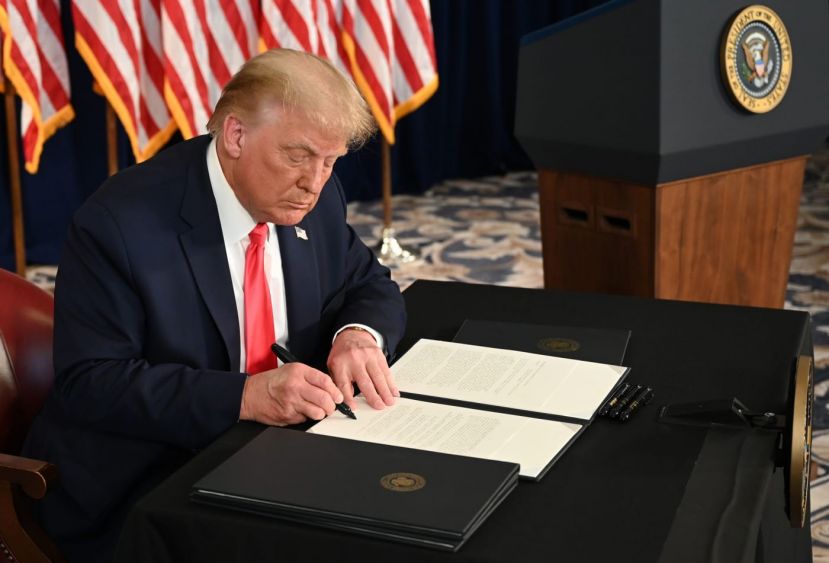 Negotiations regarding the new Covid-19 stimulus package aimed at relieving the Coronavirus pandemic's effects on the economy in the U.S. did not yield any results. Regarding the economic package, President Donald Trump signed a series of executive orders, including the extension of unemployment benefits.
Over the course of the day, the White House had indicated that President Trump would sign a series of executive orders to take action against the congestion in Washington,DC.
One major point of no-consensus in the discussions between the White House and the Congress regarding the new aid package was for how much longer the $600 weekly federal aid provided to those who were unemployed during the pandemic, would continue.
The executive order President Trump signed on Saturday at the golf club in New Jersey shows that unemployment benefits will continue, albeit at $400.
President Trump said, "That's the amount they need. That's the amount they want. It gives them a great incentive to go back to work."
"Not a perfect solution, but that is the best we can do at the moment."
"If Democrats continue to hold this critical aid package hostage, I will act under my authority as president to get Americans the aid they need," President Donald Trump said in a ballroom at his golf resort.
Democrats had said in the past that they would reduce the price tag of their $3.4 trillion bills to $2 trillion but also stated that the White House should also increase the amount of the aid package. Republicans wanted the amount of the new aid package to be limited to $1 trillion.
White House Chief of Staff Mark Meadows said, "This is not a perfect solution. We'll be the first ones to say that- but it is all that we can do, and all the President can do within the confines of his executive power."
Executive Order-Details:
https://www.whitehouse.gov/presidential-actions/executive-order-fighting-spread-covid-19-providing-assistance-renters-homeowners/
https://www.whitehouse.gov/presidential-actions/memorandum-deferring-payroll-tax-obligations-light-ongoing-covid-19-disaster/