Turkey, Home to 2.9 Million Syrian Refugees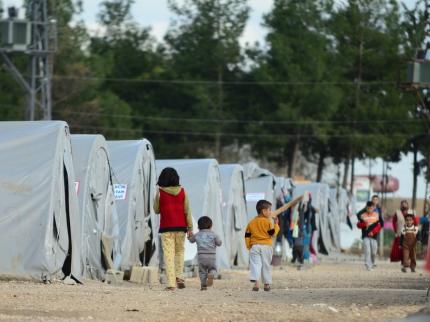 June 20th marks World Refugee Day, a time when the international community pauses to remember and pay tribute to the 65 million men, women, and children who are escaping war, persecution, terror, and economic deprivation.
In Turkey, the plight of refugees has become a sad fact of life because of the millions of refugees pouring out of Syria, the epicenter of the refugee calamity in today's world. Indeed, the exodus from Syria has tested Turkey, now home to 2.9 million refugees.
The largest concentration of the Syrian diaspora now calls Turkey home. This population endured barrel bombs and bullets, escaping unimaginable hardship and an uncertain future. A lost generation of Syrian youth are growing up in Turkish refugee camps and suffer from depression, Post-Traumatic Stress Disorder, and other severe mental health conditions.
Last month, US Ambassador to the UN Nikki Haley visited Turkey, and witnessed the ongoing suffering that has no end in sight.
In the southern city of Adana, Ambassador Haley participated in the ribbon cutting for a middle school funded by the State Department, built by UNICEF, and administered by the Turkish government—a hopeful sign that the world is coming together in Turkey to help Syrian children regain some semblance of normalcy and hope.
During the ambassador's brief tenure as the top US diplomat the UN, she has demonstrated an uncanny ability to shake up a bureaucracy and address lingering problems in a meaningful way. That refreshing approach was on full display during her recent visit when she called upon the international community to rethink its approach to development assistance. She took the opportunity to urge that after seven years of conflict, more must be done to help refugees integrate into their host societies. She rightly noted that inefficiency and duplication is an ongoing problem amongst well-intentioned organizations. She implored humanitarian organizations to focus their efforts on providing food and medicine to refugees, while development organizations are best positioned to help build infrastructure and fulfill critical long-term structural needs.
Haley's fresh advocacy for an innovative aid delivery approach that protects donor funding from fraud while restoring refugees' dignity is laudable. She urged that food assistance programs be shifted from traditional centralized rationing to one in which individual families are empowered make their own decisions. In this model, households are provided with preloaded debit cards tied to a biometric technology usable in local stores. Refugees are encouraged to venture into their host communities and become active participants in the local economy. For the millions of families longing for a return to their normal lives, this small change represents a big step forward towards that goal.
We must accept the fact that the Syrian refugee crisis is a long-term challenge that will require continuing international support, and that Turkey will continue to play a vital role in alleviating as well as absorbing the brunt of this urgent humanitarian crisis.
For Turkey, there is no other choice given the staggering realities the country faces. About 250,000 Syrian refugees now live in 26 established refugee camps that are maintained by Turkey's Disaster and Emergency Presidency. According to Turkey's Ministry of Education, 169,010 Syrian children attend Turkish public schools, while 294,112 go to temporary schools established especially for refugee children. A new generation of Syrians now call Turkey home, and that appears unlikely to change for the foreseeable future.
Turkey has met its obligation to assist the Syrian people, and the country's response effort has been hailed. But the tragedy worsens every day and long-term funding and assistance is required in the absence of a cessation of hostilities in Syria and a lasting peace. The international community is obliged to play a more meaningful role in addressing this humanitarian disaster by assisting frontline nations like Turkey grappling with this crisis.